People often ask me "what's that browser you're using" or "how the hell did you make it look like that".
This article serves two purposes:
answer these questions
remind me what to do when Firefox frags the profile 😎
Theme
Nothing special here but my GTK and xfwm themes are dark so Firefox is … dark.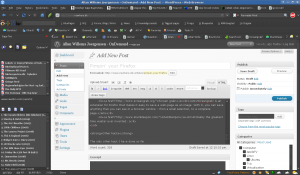 I know I am wasting some space on toolbars but I need them so I just have to live with them.
Extensions
I use my Firefox like a Swiss Army knife which means that I have lot of extensions installed (which does contribute a bit to the instability I see from time to time).
Greasemonkey scripts
AutoLoginJ
Auto submits login forms if the username and password is saved in Firefox
Other hacks
The only other hack I have done so far is enabling TraceMonkey in Firefox 3.1:
In about:config look for the key javascript.options.jit.chrome, change it to True
and restart the browser.
Various problems
One problem I've come across from time to time (with Firefox 3.1) is
All downloads fail with the error
> … could not be saved, because the source file could not be read

The extension and themes list are empty
This fix has worked for me
Shut down Firefox
Start Firefox manually: firefox-3.1 -safe-mode
Disable all extensions
Restart Firefox
When Firefox is back up and running, re-enable all extensions
DownThemAll not working
At some point DownThemAll stopped working, the dta manager hung with the message "loading".
Looking through the dta bug tracker I found a Similar to mine; at least the fix was the same:
In about:config search for extension.dta
Reset all values to default